New graphic identity and new website
New graphic identity and new website
Following the takeover by Groupe MH Industries and the change of name, formerly MGB3000 and now Méta Industrie, we are pleased to announce the renewal of our company's communication!
Who says new name, says new graphic identity ! That's why we are today evolving our graphic charter and giving life to our new logo.
We thus reinforce our visual identity to carry our strategy and our ambitions.
This new identity is for us the opportunity to express our dynamism, professionalism and commitment.
Without drawing a line on the past, our new graphic charter reinforces our ambitions by combining rigour and modernity, and highlights our desire to move forward, to develop and to become one with the group.
This new streamlined logo responds to our desire for uniformity in our companies and our complementarity within the group.
The acronym evokes the industrial side of our company and our original businesses. Its shape suggests various sectors that come together as one: our different entities complement each other and form a powerful group.
Our identity is further safeguarded by the orange in our logo in reference to the orange that was part of our former visual identity.
You will have the opportunity to discover this new identity through our various communication media including our new website !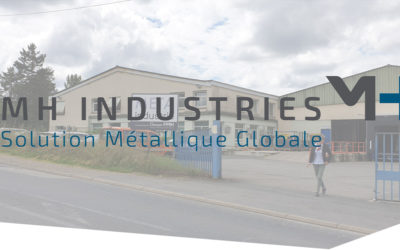 Buyout by the MH Industries group led by Matthieu HEDECreated in 1939, our company MGB3000, specialized in the field of cold metal forming and offering services in sheet metal and boiler making, cutting and forming, machining and painting, was bought by the MH...
read more